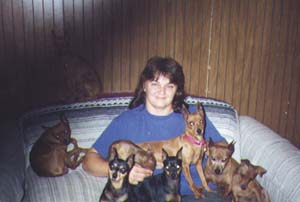 This is my human mom with me curled up by her elbow! On her lap is my Aunt Gaiter. My real father is the older gentle-man with the greying face.

(He is Champion Ja Lyn's The King Of Jokers!) The black & tans girls (both retired champions) are just friends and there are 2 of my brothers. My best girlfriend, Dixie, is on the back of the couch in the shadow!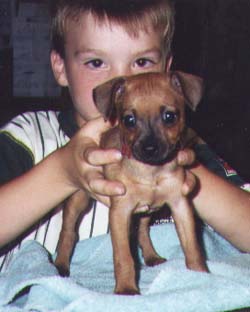 This is one of my daughters with her new boy.

They took her to the vet for a checkup and

the vet said he never saw a healthier puppy!

That's her in the shoe when she was 4 weeks old!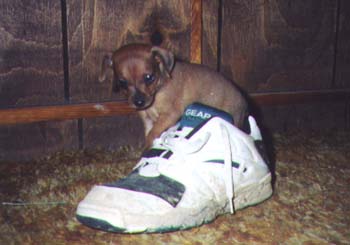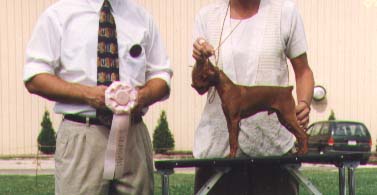 Here is another son of mine. He was 6 or 7 months old here and won his class!

   THAT"S MY BOY!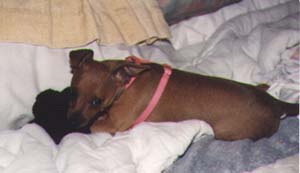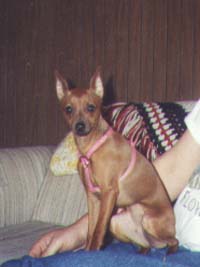 And this little cutie is my daughter

as a little girl...

...and as a lovely lady, all grown up!

Now, meet Dixie!  She is my best girfriend and we still live together.

She's a real nut! This is one of her cutest

things to do to make people laugh and it sure does work! Mom says "Stand on your head!" and she does. Too funny!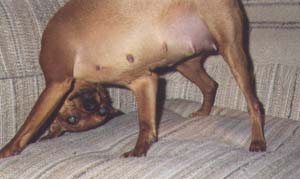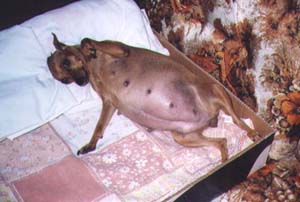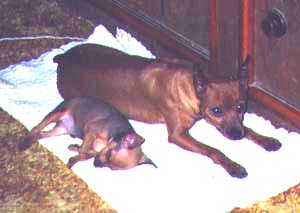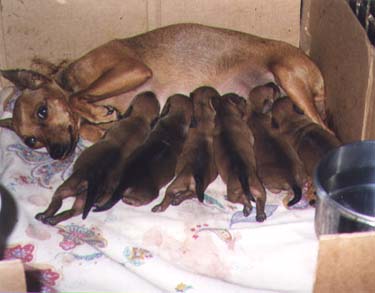 And here's our babies!

Believe it or not, all 6 were healthy little boys!

That was our biggest litter .

Hard to think that all those puppies were in there all together!  They all grew up to be wonderful boys.

Here I am babysitting like the good father that I am!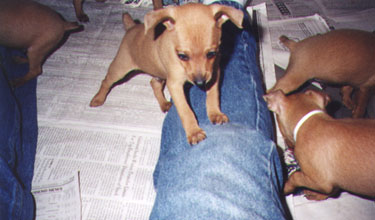 "Oh, look at what I just caught!

I don't know what it is, but it's BIG!"



This page was last updated on: July 30, 2009
Dixie was about to give birth to our children here. Believe me, it was a big relief when she finally did! (especially to HER... whew!)

We are both 'fixed' and enjoying our retirement. My mom decided that although we produced some fantastic puppies, there are just too many dogs in the world that are in need of a loving home and family as it is. And as much as we try to make sure our kids got the perfect home, it is impossible to guarantee their well-being once they leave. We're all happier and healthier about that decision.